Sicilian cannoli with fresh sheep's milk ricotta
Hurry, only 10 items left in stock!
Kit to prepare 6 mini Sicilian cannoli comfortably at home.
Do you dream of savoring the flavors of Sicily wherever you are? With our kit to prepare 6 mini Sicilian cannoli comfortably at home, you can do it!

The kit contains six crunchy mini cannoli, a sac à poche with ready-made fresh sheep ricotta, chopped pistachios and chocolate chips. The crunchiness of the wafer, the soft sheep ricotta cream and the delicate pistachio grain: more than a recipe, it seems like magic.

The Sicilian cannolo is one of the most famous and loved desserts in the world. Its ancient and fascinating history dates back to the Arab-Norman period of Sicily.

Creating Sicilian cannoli at home will be a unique emotion to be experienced together with the people you love. The wafers, the ricotta cream and the pistachio grains are all produced in Sicily, so you can enjoy the Sicilian cannoli directly at home with the freshness and authenticity of the island's flavours.

We ship our kit for preparing Sicilian mini cannoli throughout Switzerland, directly from our refrigerated warehouse. We take care of your goods with fast and efficient shipping: the goods leave our warehouse at 18:00 and arrive at 9 the following day comfortably at your home with a refrigerated box.

With our do-it-yourself kit, you can have a fresh and crunchy cannoli at any time. Bring a piece of Sicily into your home and delight your palate with the goodness of our mini Sicilian cannoli.
Ingredients

CANNOLI
Type 00 flour, wine, sugar, refined lard, whole eggs
pasteurized, salt, bitter cocoa powder, flavourings.

SHEEP RICOTTA CREAM
Fresh ricotta (sheep's milk whey, sheep's milk,
salt) sugar, potassium sorbate, starch.

PISTACHIO GRAIN
Pistachio

CHOCOLATE CHIPS
Sugar, cocoa mass, cocoa butter,
emulsifier: soy lecithin, flavourings.
Usage

The Sicilian cannolo is versatile and lends itself to being combined with different drinks, from the classic coffee, to the Americano, to liqueur and limoncello, to create a unique taste experience.

There is no occasion in which the Sicilian cannolo is not the protagonist: a romantic dinner, a birthday, a family party, a picnic with friends, a day at the beach.

Perfect for those who love tradition and authenticity, the Sicilian cannolo is a taste experience that must be enjoyed at least once in a lifetime.
storage

Store in the fridge between 0° and +4°C.
After opening, ricotta should be consumed within 4 days.
Nutritional values

Average values ​​per 100g

CANNOLI
Energy value 536kcal - 2241kJ
Fat 30g
of which saturated fatty acids 12.9g
Carbohydrates 57g
of which Sugars 3.7g
Protein 6.9g
Salt 0.78g
Fibers 1.7g

SHEEP RICOTTA CREAM
Energy value 245kcal - 1022kJ
Fats 10.1g
of which saturated fatty acids 6.5g
Carbs 26.6g
of which Sugars 26.2g
Protein 12g
Salt 3g

PISTACHIO GRAIN
Energy value 608kcal - 2543kJ
Fat 56.1g
of which saturated fatty acids 3.1g
Carbs 8.1g
of which Sugars 4.5g
Protein 18.1g
Salt 37g
Fibers 10.6g

CHOCOLATE CHIPS
Energy value 494kcal - 2066kJ
Fat 28g
of which saturated fatty acids 16.9g
Carbohydrates 54g
of which Sugars 51g
Protein 6.6g
Salt 0.07g
Shipping and returns

SHIPPING COSTS

Shipping is free for orders over CHF60.

Shipping throughout Switzerland:

Up to 2Kg CHF 7
Up to 10Kg CHF 9.7
Up to 30Kg CHF 20.5
More than 30Kg CHF 50

HOME DELIVERY

Home delivery is currently not available.

MADE

Any defects must be reported immediately upon arrival of the goods. If the complaint is justified, the purchase price will be refunded to the customer. The type of refund of the purchase price depends on the chosen payment method.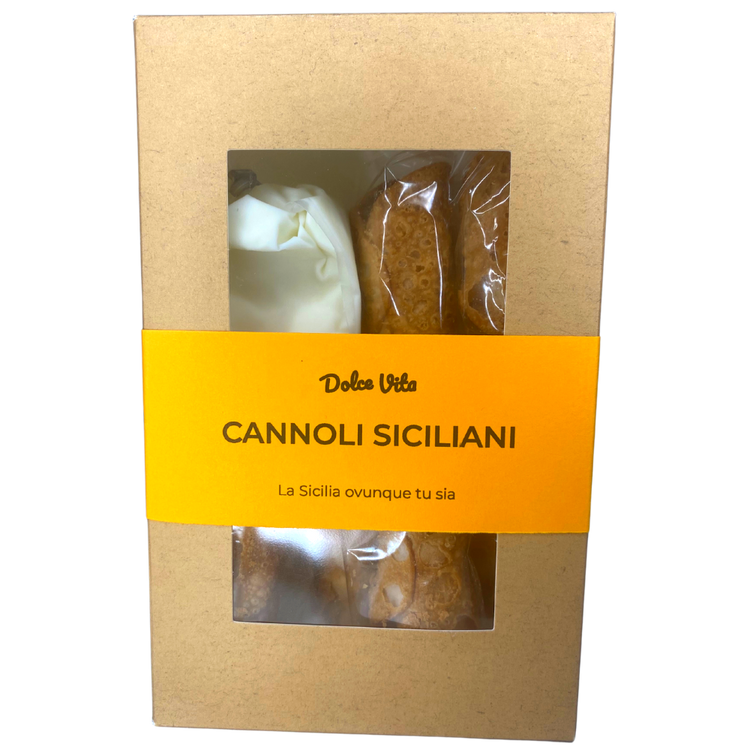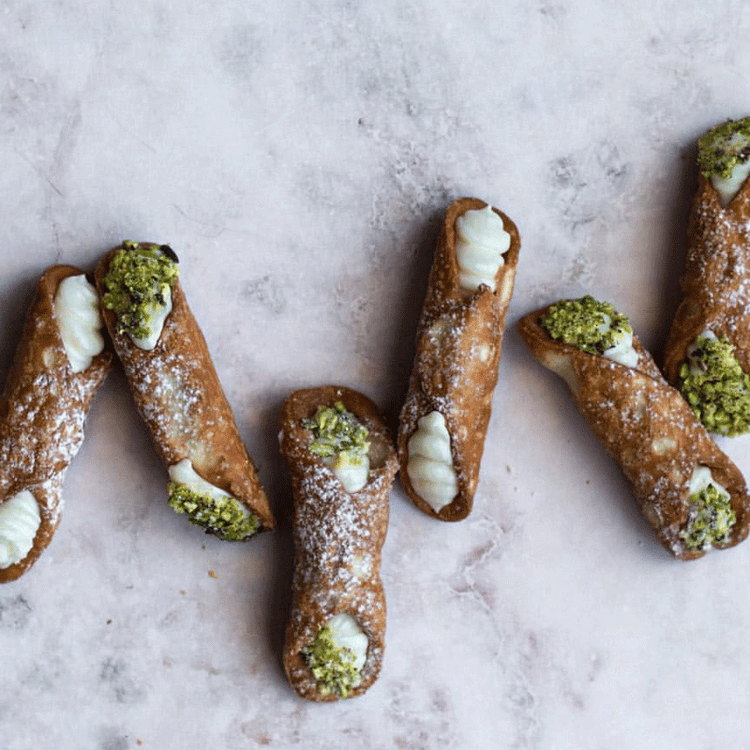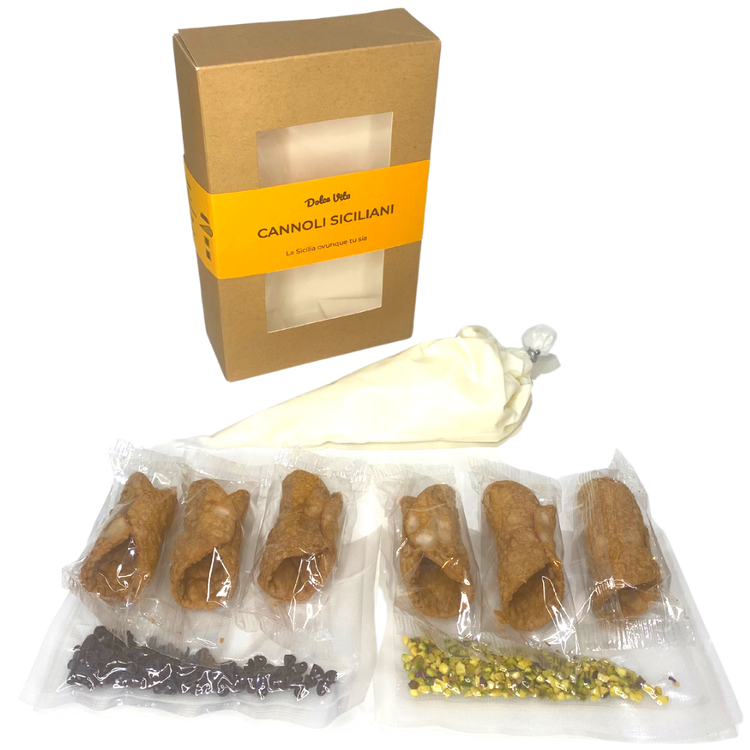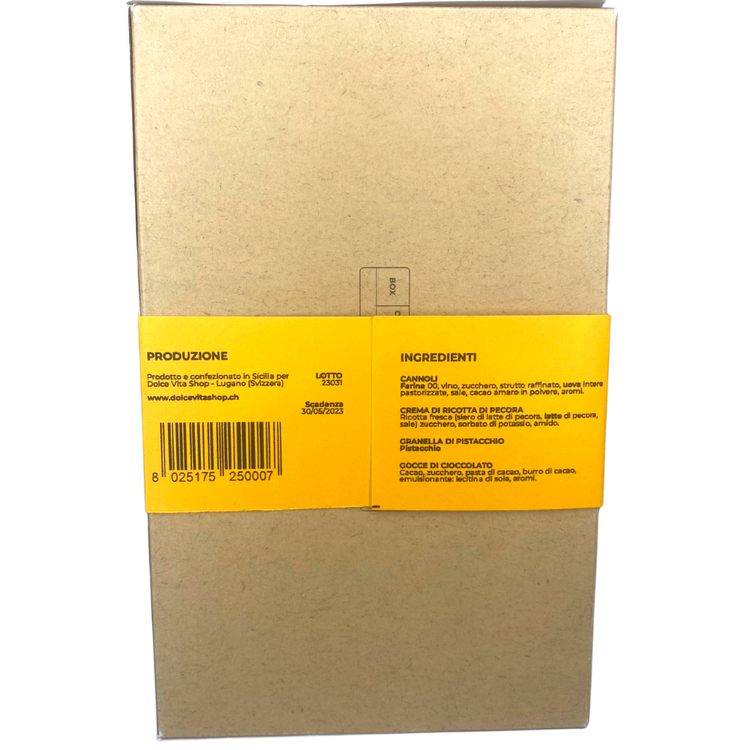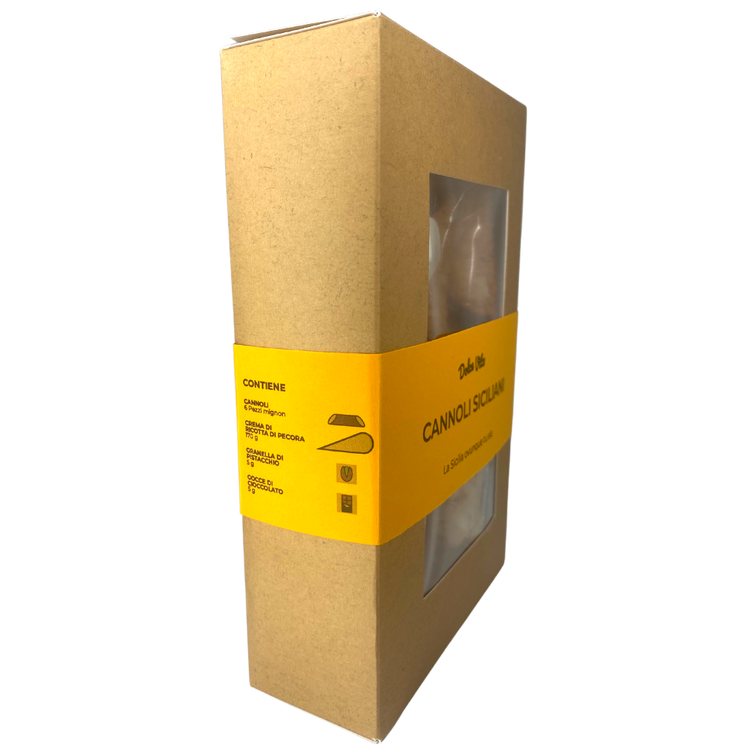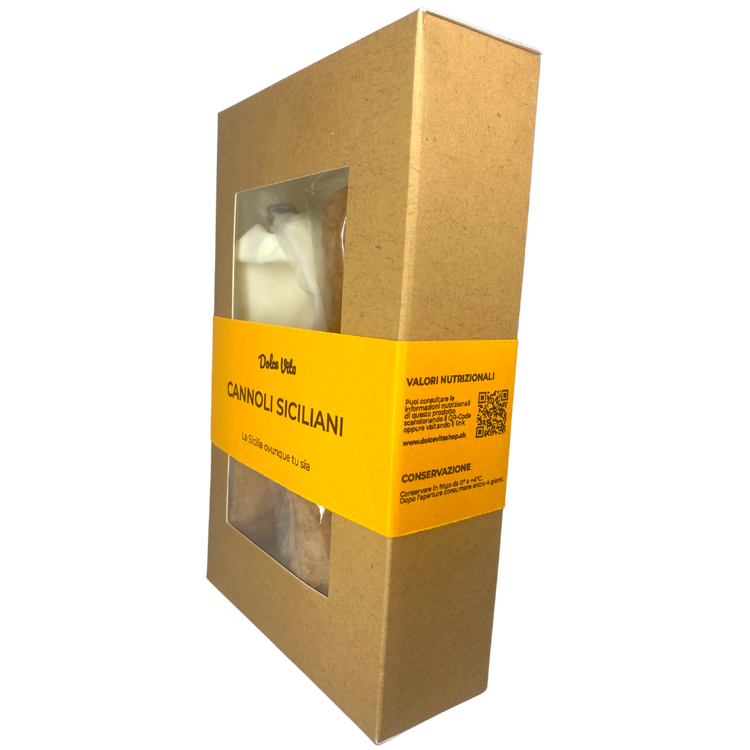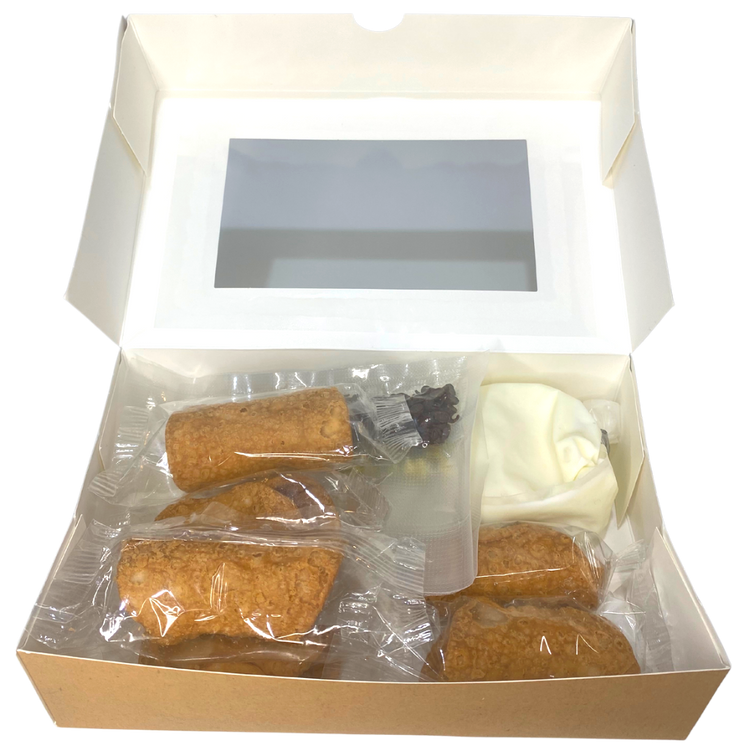 Rosanna
Purtroppo i cannoli erano sbriciolati e non belli da vedere esteticamente🙁
Cannoli Siciliani con ricotta di pecora fresca
Mini cannoli
Ottimi, buonissimi , incredibilmente deliziosi!
6 mini Cannoli con ricotta di pecora
Warranties
Handcrafted
Genuine products for all healthy, gluten-free, organic and vegan cooking needs. We do not use artificial preservatives and only seasonal Sicilian raw materials to maintain the true traditional taste.
Fast deliveries
We deliver throughout Switzerland in a very short time thanks to our warehouse in Ticino and the efficiency of the Swiss Post Office.
Secure payments
We accept payments by credit cards, PayPal, Twint and bank transfers. Safety according to Swiss standards. All transactions take place in a secure environment.