Salted Sicilian anchovies with chilli pepper
Regular price

SFr. 4.70

Sale price

SFr. 1.40
Salted Sicilian anchovies with chilli pepper are a real treat for lovers of spicy and intense flavours. These delicious anchovies are fished in the Mediterranean Sea and processed by hand to ensure the highest quality.
Subjected to a traditional salting process, the anchovies are then flavored with Sicilian chili, giving them a touch of heat and spiciness. The spicy flavor of the chilli blends harmoniously with the salty richness of the anchovies, creating an explosion of taste in every bite.
The Sicilian Salted Anchovies with chilli pepper are packaged in convenient 100g vacuum-packed bags, which maintain the freshness and intensity of the flavours. They are the perfect ingredient to enrich your culinary preparations, from bruschetta to pasta sauces, from salads to fish dishes.
Choose the Sicilian salted anchovies with chilli pepper for a real explosion of taste and a culinary journey through the Sicilian tradition.
Fishing zone : FAO ZONE 37 – FAO ZONE 27
Fishing method : fished with purse seines
Ingredients

Anchovies (Engraulis encrasicolus), salt, chilli.
Usage

Ready to taste or to prepare your own dish.
storage

Keep in a cool place max 12°C
Shipping and returns

SHIPPING COSTS

Shipping throughout Switzerland:

Up to 5Kg CHF 9
Up to 10Kg CHF 12
Up to 20Kg CHF 15
Up to 30Kg CHF 25
More than 30Kg CHF 60

Shipping is free for orders over CHF80.

HOME DELIVERY

Home delivery is not available.

MADE

Any defects must be reported immediately upon arrival of the goods. If the complaint is justified, the purchase price will be refunded to the customer. The type of refund of the purchase price depends on the chosen payment method.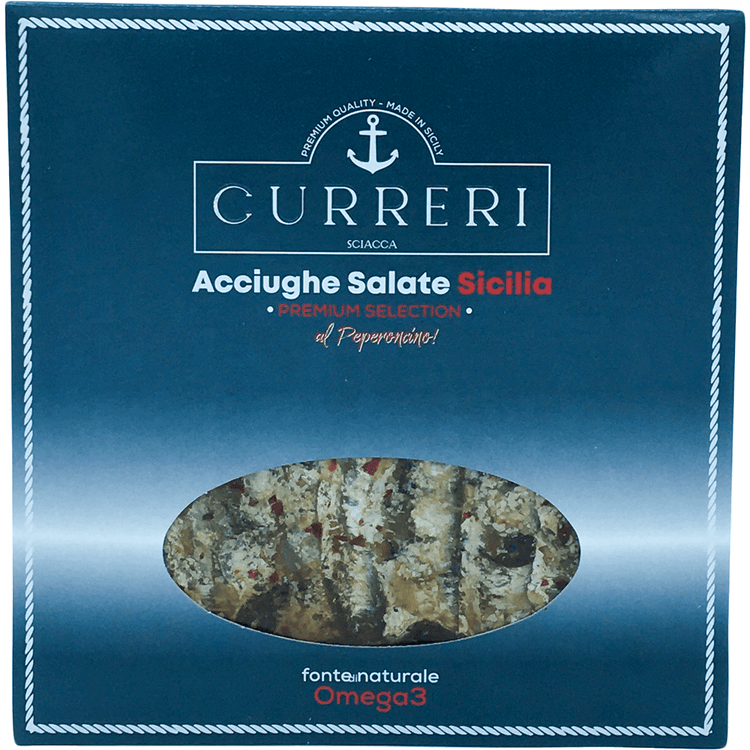 Warranties
Handcrafted
Genuine products for all healthy, gluten-free, organic and vegan cooking needs. We do not use artificial preservatives and only seasonal Sicilian raw materials to maintain the true traditional taste.
Fast deliveries
We deliver throughout Switzerland in a very short time thanks to our warehouse in Ticino and the efficiency of the Swiss Post Office.
Secure payments
We accept payments by credit cards, PayPal, Twint and bank transfers. Safety according to Swiss standards. All transactions take place in a secure environment.