Black garlic cream
Hurry, only 5 items left in stock!
Ready to explore a universe of unique flavor? Discover our Cream of Black Garlic, a gourmet innovation in your pantry.

The Cream of Black Garlic comes from the DOP White Garlic of Polesine, subjected to a controlled maturation process for one month.

This long transformation makes the garlic soft, sweet and balsamic, with a licorice aftertaste and a velvety texture.
Made only with natural ingredients and without additives, this gourmet cream is distinguished by the use of Aglio Bianco Polesano DOP, a sign of our commitment to quality and traceability.

Imagine seasoning your pasta or risotto with our Cream of Black Garlic, or using it to enhance the flavor of meat, fish and vegetables. Discover the umami taste reminiscent of balsamic vinegar or soy sauce, and enjoy the versatility of this superfood in your kitchen creations.

We invite you to discover the Cream of Black Garlic. A product that tells of a territory, of a unique know-how, and which will allow you to bring an authentically Italian gourmet touch to the table. Join us on this journey of flavours, and discover the culinary experience that Black Garlic can offer!
Ingredients

Italian black garlic (50%), water
Usage

Black Garlic Cream is a real star in the kitchen, ready to reveal its versatility and amaze with its unique flavour. Imagine giving new life to your pasta or risotto dishes, adding a touch of cream, capable of instilling a sophisticated and balanced note, as original as it is captivating.

But don't stop there. Its gustatory richness is fully revealed when you combine it with meat and fish: try spreading it on a grilled steak or delicately combining it with a fish fillet to enhance its flavour. It is a culinary experience that transforms an ordinary meal into a special moment.

The Cream of Black Garlic also marries beautifully with aged cheeses and vegetables. For an unprecedented tasting, combine it with robust cheeses or use it as a refined condiment for salads and grilled vegetables. If you prefer a gourmet snack, spread it on some crusty bread to create a truly unique appetizer.

Finally, its versatility makes black garlic cream an excellent choice for enriching vegetarian and vegan dishes. Crushed with a fork and enriched with a little oil, it becomes a versatile condiment for salads, soups or main courses.

Discover all the possibilities that Black Garlic Cream can offer you in the kitchen.
storage

In a cool, dry place away from heat sources. After opening, keep refrigerated and consume within 5 days.
Nutritional values

Average values ​​per 100g
Energy value 95kcal - 399kJ
Fats 0g
of which saturated fatty acids 0g
Carbohydrates 16g
of which Sugars 16g
Protein 4.9g
Salt 0.02g
Shipping and returns

SHIPPING COSTS

Shipping is free for orders over CHF60.

Shipping throughout Switzerland:

Up to 2Kg CHF 7
Up to 10Kg CHF 9.7
Up to 30Kg CHF 20.5
More than 30Kg CHF 50

HOME DELIVERY

Home delivery is currently not available.

MADE

Any defects must be reported immediately upon arrival of the goods. If the complaint is justified, the purchase price will be refunded to the customer. The type of refund of the purchase price depends on the chosen payment method.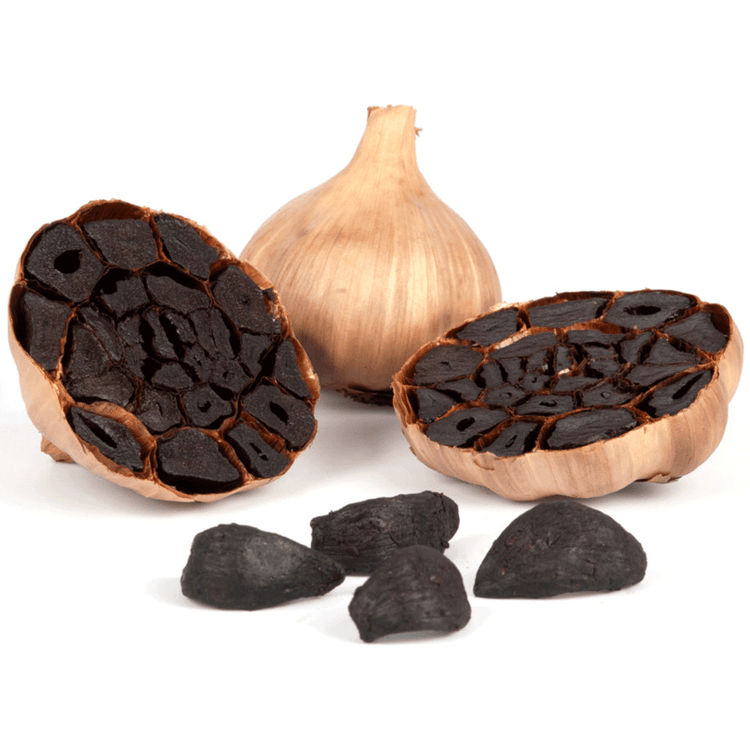 Warranties
Handcrafted
Genuine products for all healthy, gluten-free, organic and vegan cooking needs. We do not use artificial preservatives and only seasonal Sicilian raw materials to maintain the true traditional taste.
Fast deliveries
We deliver throughout Switzerland in a very short time thanks to our warehouse in Ticino and the efficiency of the Swiss Post Office.
Secure payments
We accept payments by credit cards, PayPal, Twint and bank transfers. Safety according to Swiss standards. All transactions take place in a secure environment.