Alivi Cunzati: Seasoned crushed green olives
Add a touch of authenticity to your Sicilian dining experience with Nocellara del Belice Seasoned Crushed Green Olives, also known as "Cunzati" in the Sicilian dialect.
Crushed seasoned green olives Nocellara del Belice - The authentic taste of Sicilian extra virgin olive oil.
Produced with the precious Nocellara del Belice olives from the Belice Valley, these crushed seasoned green olives represent the excellence of Sicilian table olives.
Enjoy the crunchy texture and light bitter taste of Nocellara del Belice olives, from the Sicilian region known for its quality production.
Explore the different types of olives available, such as whole in brine, crushed, pitted in brine, sliced, engraved and seasoned (Cunzati), to enrich your dishes with the genuine Mediterranean taste.
Don't give up on the authenticity of Sicilian products. Buy "l'Alivi Cunzati" and discover the true flavor of the Sicilian culinary tradition.
Ingredients

Nocellara del Belice olives, extra virgin olive oil, apple vinegar, parsley, oregano, fennel, chilli pepper, garlic.
Acidifier: lactic acid
Antioxidant: L-Ascorbic acid
Usage

Nocellara del Belice table olives are one of the most popular table olives in Italy. It is consumed naturally as a tasty aperitif, it is also excellent combined with cheeses, salami and vegetables in oil. It can also be used as an ingredient to flavor typical Sicilian dishes, above all the famous "caponata".
storage

Store in a cool, dry place away from heat sources and direct light.
After opening, keep in the fridge.
Nutritional values

Average values ​​per 100g
Energy value 594 kJ/ 141kcal
Fat 15g
of which saturated fatty acids 0g
Carbs 1.1g
of which sugars 1g
Protein 1g
Salt 0.09g

Shipping and returns

SHIPPING COSTS

Shipping is free for orders over CHF60.

Shipping throughout Switzerland:

Up to 2Kg CHF 7
Up to 10Kg CHF 9.7
Up to 30Kg CHF 20.5
More than 30Kg CHF 50

HOME DELIVERY

Home delivery is currently not available.

MADE

Any defects must be reported immediately upon arrival of the goods. If the complaint is justified, the purchase price will be refunded to the customer. The type of refund of the purchase price depends on the chosen payment method.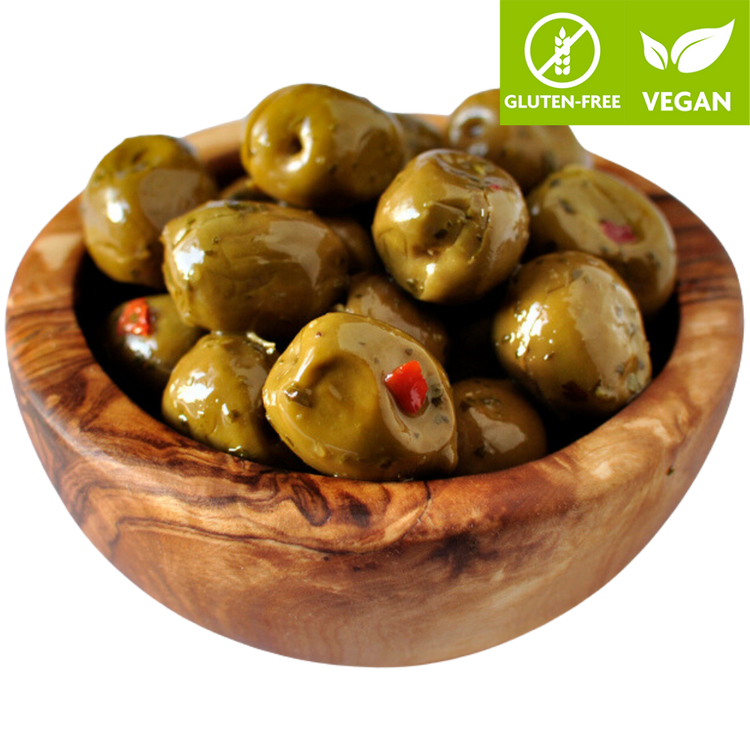 Warranties
Handcrafted
Genuine products for all healthy, gluten-free, organic and vegan cooking needs. We do not use artificial preservatives and only seasonal Sicilian raw materials to maintain the true traditional taste.
Fast deliveries
We deliver throughout Switzerland in a very short time thanks to our warehouse in Ticino and the efficiency of the Swiss Post Office.
Secure payments
We accept payments by credit cards, PayPal, Twint and bank transfers. Safety according to Swiss standards. All transactions take place in a secure environment.