Sicilian Pistachio Panettone | Dolce&Gabbana
The Sicilian pistachio panettone, which has now become a true Fiasconaro pastry classic, is covered with white chocolate and pistachios and is accompanied by a tin of soft pistachio cream with the special golden spread.

The panettone is stored in special tins, decorated according to Sicilian artistic tradition, in green and red variants.

The package contains: the panettone, a jar of cream and a spread, in a tin container and a handy bag.
Ingredients

BREAD: Soft wheat flour, BUTTER, sugar, fresh EGGS from free range hens, white chocolate coating (10%) (sugar, whole milk powder, cocoa butter, emulsifier: SOY lecithin, natural vanilla extract), yolk from fresh eggs of free-range hens, natural yeast (wheat flour, water, yeast), PISTACCOCHIO di Sicilia (Pistacia vera) (3%), honey from Sicily, inverted sugar syrup, orange paste (orange peel, sugar, glucose-fructose syrup, lemon juice), emulsifier: mono and diglycerides of fatty acids, cocoa butter, skimmed milk powder, salt, natural vanilla flavouring. May contain traces of other NUTS and LUPIN.

PISTACHO CREAM: Sugar, pistachio (Pistacia vera) (22%), vegetable oils and fats (sunflower, cocoa butter, safflower), skimmed milk powder, whey powder, emulsifier: soy lecithin, natural flavouring, colourings (curcumin, copper chlorophyll), salt. May contain traces of other nuts and/or lupine.
Usage

Breakfast like a king: Start the day with a touch of luxury. A slice of panettone, lightly toasted to make it even more fragrant, is the key to a truly royal breakfast. Accompany it with an aromatic coffee or cup of tea, and you are ready to face the day with a smile.

Gift Taste: Panettone is a perfect gift for someone you love. Packaged with care, it conveys the love and joy of the holidays. Give it to a friend or family member, creating moments of sharing and happiness.

Toast in Style: During celebrations, panettone can take centre stage. Cut a slice and serve it with high-quality champagne or sparkling wine for a very special toast. It is the perfect end to a memorable evening.
storage

Store in a cool (20°C max.) and dry place, in the original packaging. The product retains its organoleptic characteristics throughout its shelf life.
Nutritional values

PANETTONE
AVERAGE VALUES PER 100g
------------------------
Energy value: 1719 kJ / 411 kcal
Fats: 21 g
of which saturated fatty acids: 14 g
Carbohydrates: 45 g
of which sugars: 21 g
Protein: 8.6 g
Salt: 0.44 g

PISTACHIO CREAM
AVERAGE VALUES PER 100 g
------------------------
Energy value: 2333 kJ / 557 kcal
Fats: 34 g
of which saturated fatty acids: 16 g
Carbohydrates: 53 g
of which sugars: 46 g
Protein: 9.3 g
Salt: 0.3 g
Shipping and returns

SHIPPING COSTS

Shipping is free for orders over CHF60.

Shipping throughout Switzerland:

Up to 2Kg CHF 7
Up to 10Kg CHF 9.7
Up to 30Kg CHF 20.5
More than 30Kg CHF 50

HOME DELIVERY

Home delivery is currently not available.

MADE

Any defects must be reported immediately upon arrival of the goods. If the complaint is justified, the purchase price will be refunded to the customer. The type of refund of the purchase price depends on the chosen payment method.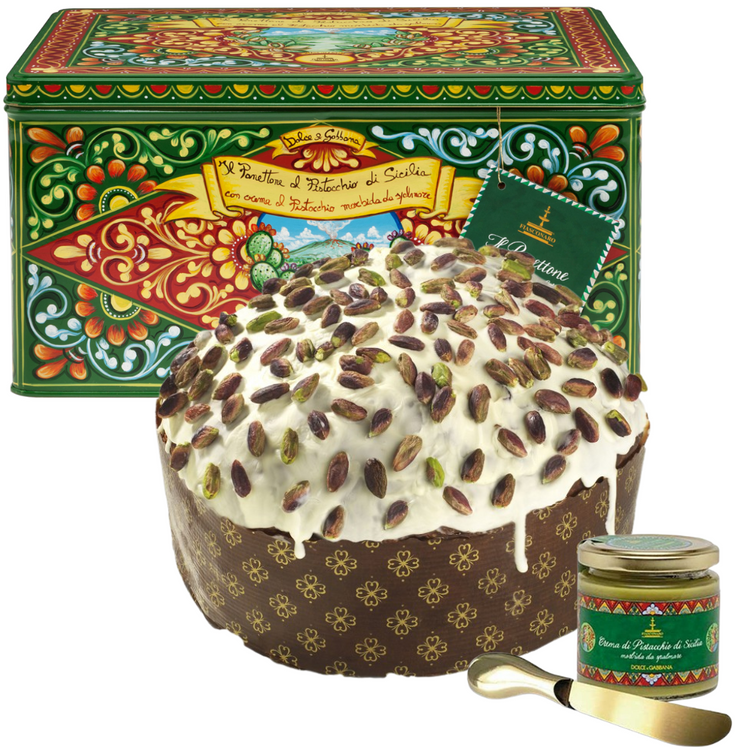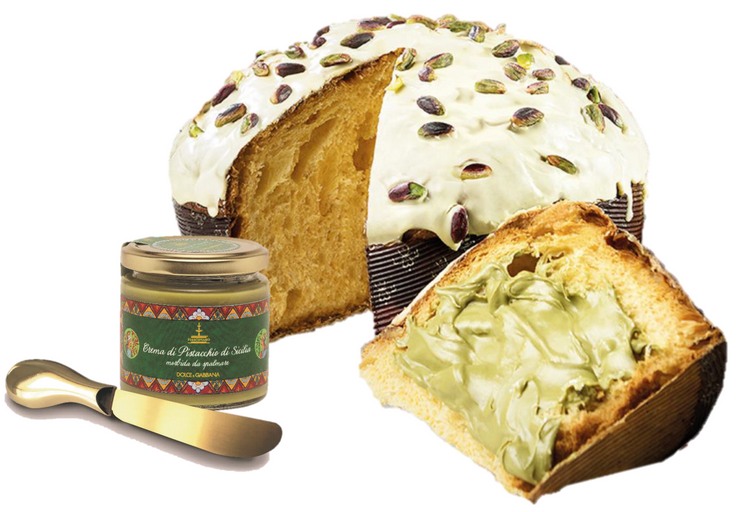 Warranties
Handcrafted
Genuine products for all healthy, gluten-free, organic and vegan cooking needs. We do not use artificial preservatives and only seasonal Sicilian raw materials to maintain the true traditional taste.
Fast deliveries
We deliver throughout Switzerland in a very short time thanks to our warehouse in Ticino and the efficiency of the Swiss Post Office.
Secure payments
We accept payments by credit cards, PayPal, Twint and bank transfers. Safety according to Swiss standards. All transactions take place in a secure environment.